Thoughts from Sasha Harding – artist of A brush with the coast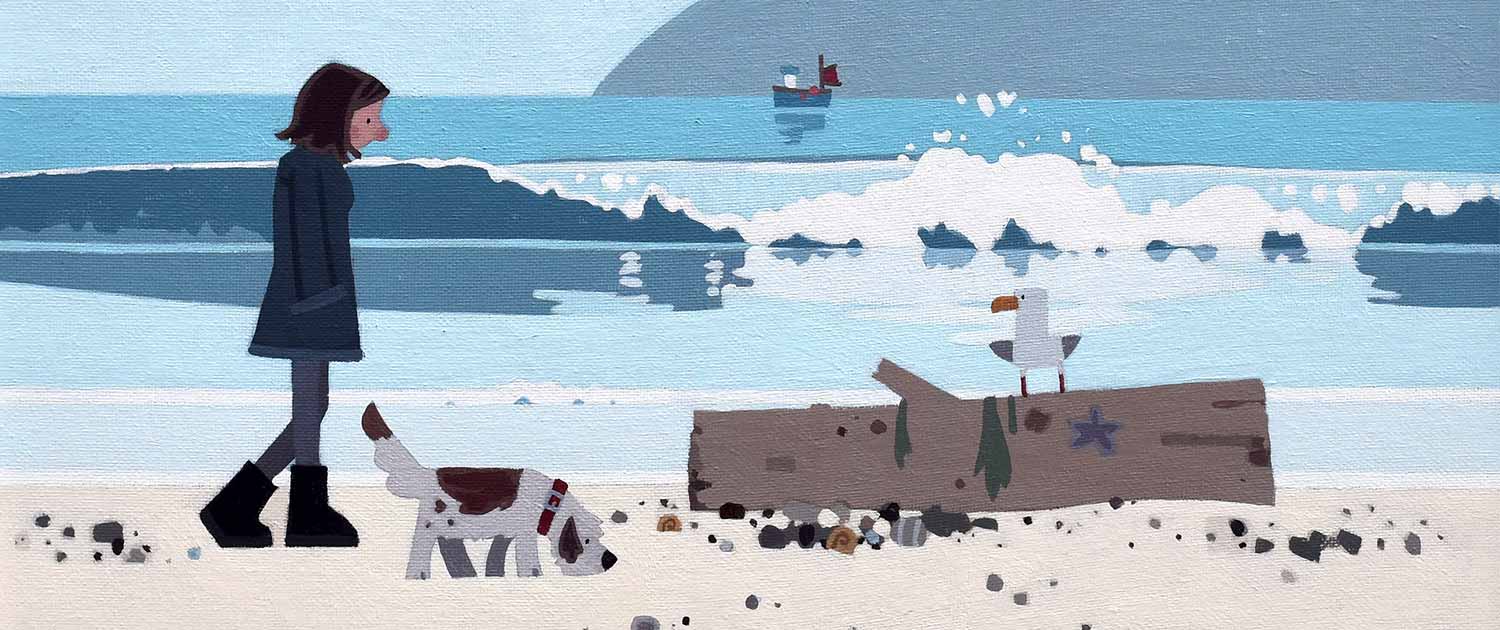 I have holidayed many a time on the Jurassic Coast and it was during a holiday in Swanage that I first saw Sasha's Art in a gallery there.
I immediately fell in love with her paintings and have since bought prints and my Christmas cards from her. Her art just makes me smile!
I also purchased her book 'A Brush with the Coast' that she mentions below and have since bought it for many a friend, as it's wonderful and the perfect coffee table book … and something I would love to do in the future.
So it was wonderful that Sasha agreed to feature here in my Wellness and Lifestyle magazine.  I hope you enjoy reading about her as much as I did.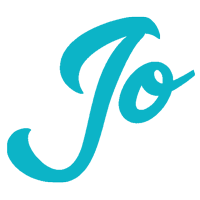 xx
_____________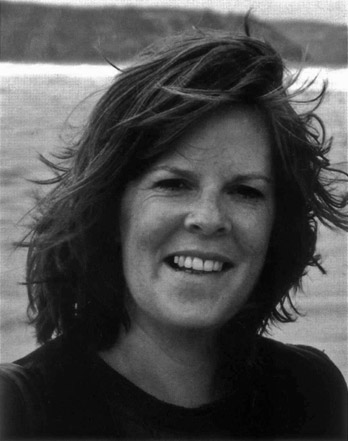 I have lived and worked as an artist in Cornwall for 25 years. I grew up in the coastal town of Swanage in Dorset and spent an idilic childhood with long summer holidays centered around our little wooden beach hut over looking the sheltered bay.
My love of the coast runs through almost everything I paint and is my main inspiration along with a hefty dose of nostalgia.
The best way to explore the coast, I have always found, is with a dog or two!
When I left college my main priority was to look for a rescue dog to join me on my long rambles exploring Cornwall's many coves and harbours. All the inspiration I needed for my paintings, as I embarked on a career as an artist, was gleaned on those walks with my newly acquired sidekick Poppy.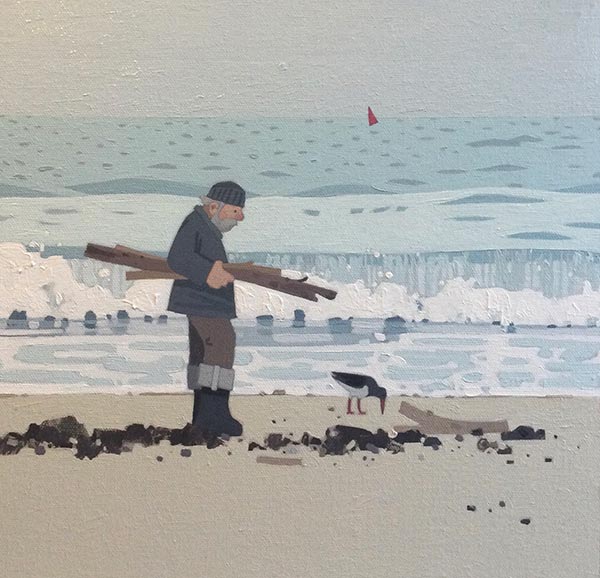 Later on in my career I embarked on an epic 630 mile trek with Jess my two year old Rodesian Ridgeback. Before making the momentous decision I'd agreed with a prestigious gallery to a large one man show but had then run out of inspiration and the desire to paint.
Searching for a remedy to my apathy I remembered a book I had read about a man and his dog who walked the entire South West Coast Path (SWCP) in one go. It was a light bulb moment and I realised if I did the same it could be just the thing to rekindle my inspiration.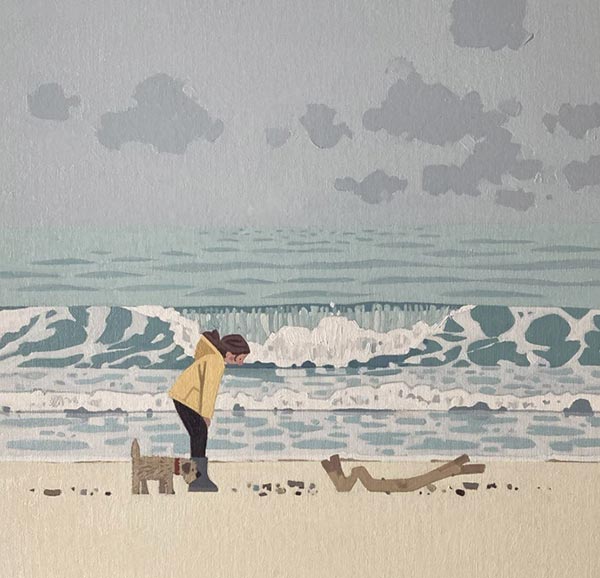 Jess and I set off a few months later on what became one of the most extraordinary experiences of my life. But not before enduring a bit of pain; Although I was an enthusiastic dog walker I had never gone more than five or six miles at a time, needless to say the SWCP came as a complete shock.
The combined ascents and descents of the trail add up to the equivalent of climbing Mount Everest four times! In the early days the relentless climbs took their toil on my knees and hips and I got used to popping paracetamol with my breakfast every morning. However, soon walking for seven hours a day became the new normal.
"As my fitness slowly improved, I began to notice changes in my state of mind."
With none of the usual worries of day to day tasks my only goal was to keep putting one foot in front of the other. The simplicity of my existence meant I could loose myself totally in the moment. I revelled in the harsh cry of the gulls on the cliffs or the shrill song of the Meadow Pipits when we were making our way through sand dunes, the heady smell of Gorse when the sun shone on the flowers or the crunch of shingle under my boots on a long stretch of beach …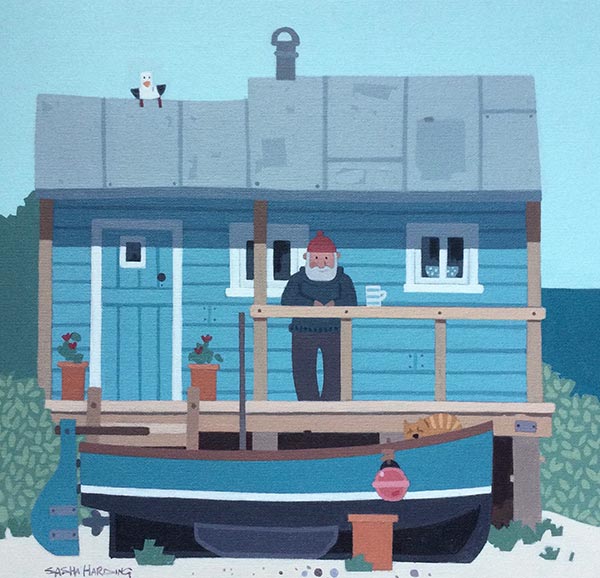 For someone who has never been adventurous, taking on the SWCP was a huge leap into the unknown, but I am so glad I did. Not only did I find buckets of inspiration for my exhibition, I pushed myself physically and mentally further than I ever thought I could. And I got to experience it all in the company of my beloved dog Jess.
You can find out more about Sasha's work here: sashaharding.co.uk
Or, follow here on Instagram here: @sashahardingartist.
You can order her book directly from her website here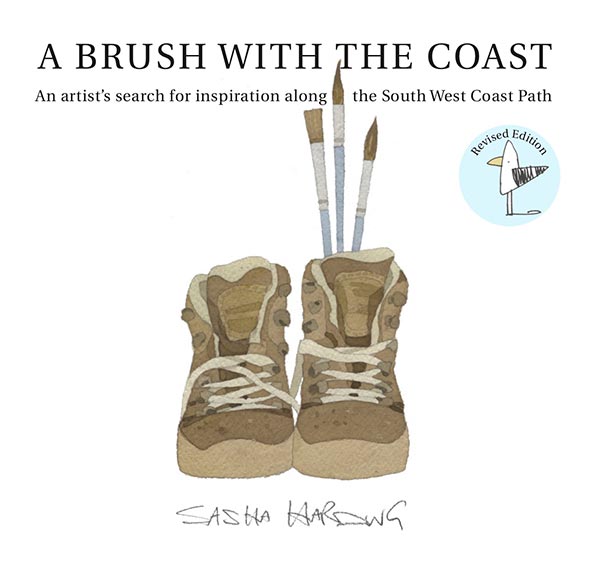 https://jotuffrey.com/wp-content/uploads/A-brush-with-the-coast.jpg
630
1500
[email protected]
https://jotuffrey.com/wp-content/uploads/jo-tuffrey-site-logo.png
[email protected]
2022-03-28 08:00:09
2022-03-29 19:08:49
Thoughts from Sasha Harding – artist of A brush with the coast