Jo's Tone with Tuffrey 2022 programming is benefiting 100's of people right now!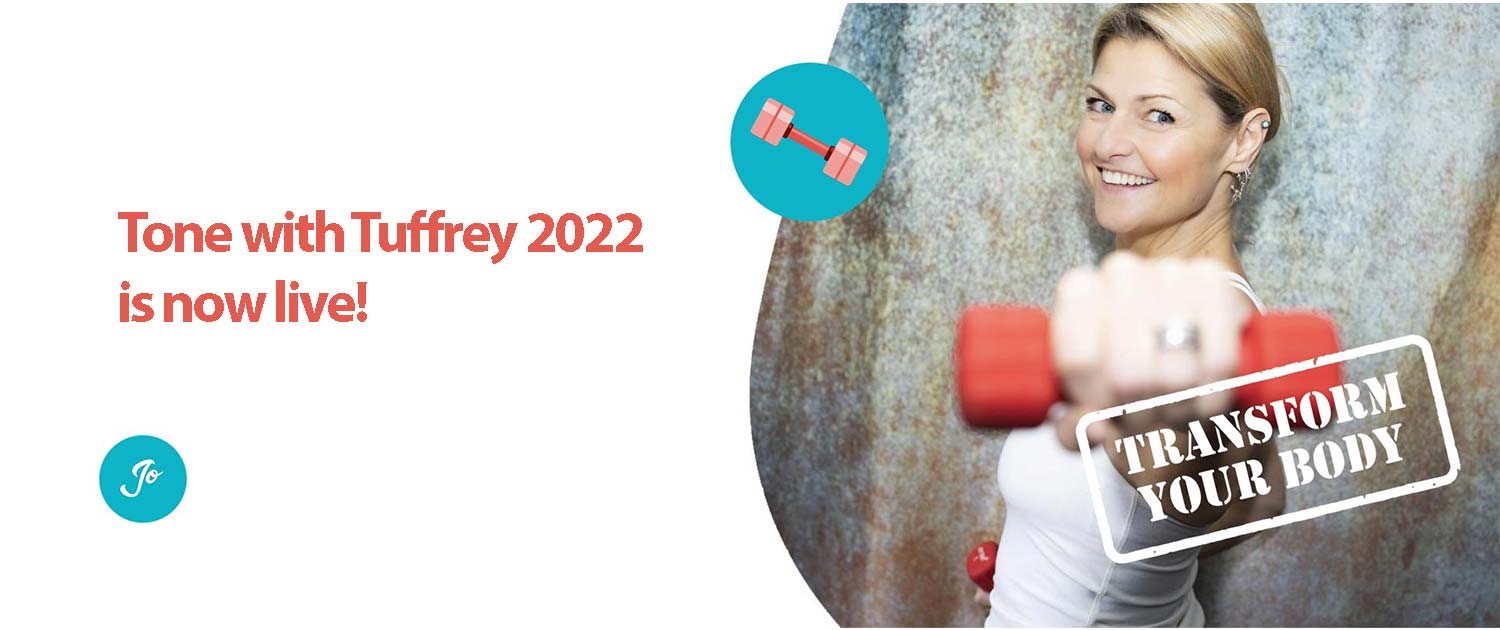 When I launched my original Tone with Tuffrey programme this time last year, much of the world was in lockdown and the messages of thanks I received were overwhelming.
As people were coming out of the Christmas break, they were looking for motivational and physical support and it was such a pleasure to deliver it through the original programme.
12 months on – the world is in a different place, yet the need for that motivational and physical support hasn't gone away and so on 3rd January, Tone with Tuffrey 2022 was launched.
It's a new dawn
On that morning, 100s of people logged in to enjoy the first class – It's a new dawn …
What's behind the programme?
I love Nina Simone's music and her song "Feeling Good" in particular.
We all have days where we feel down, lethargic or simply just not quite right … and that's ok – 'That's Life! (there's another song in there somewhere)!!! 😂
No one is happy all the time. But everyday is a new day! Never beat yourself up!
It's ok to have days where we literally wallow. But just remember … tomorrow.
"It's a new dawn
It's a new day
It's a new life for me
And I'm feeling good!"
I chose this quote because any day can be a new day – not just New Years Day.
The programme continues over the next 3 weeks – taking us to the end of January.
Among the workouts are a number of stretch classes. Stretch is an important part of toning. Muscles need to be long and lithe in order to be more contractile – making you stronger.
Because I'm a qualified PE teacher, I will always reference muscle groups and physiology – so that you know what you should be feeling and where. We often show muscle images on screen too!
So many are enjoying the programme already
It's been wonderful to receive so many messages of thanks already.
5 things I love about being in Jo Tuffrey's workout family :
• the variety of workouts
• the pace and adaptation made to make workouts inclusive for all
• the knowledge which Jo has of physiology and workings of mind/body
• the fact that I can feel my strength improving through appropriate exercise
• the craic and the banter
So glad I signed up!

Our most recent Google Review – left on 3 January 2022
During the programme, I'll be releasing brand new workouts on a Monday and Wednesday as ever, whilst combining those with workouts from my back catalogue.
It's not to late to join. Whilst the programme runs throughout January, it'll be part of the Workout Club forever – so you can come back to it any time.
If you like what you see – find out more on the Tone with Tuffrey 2022 page.
https://jotuffrey.com/wp-content/uploads/Tone-with-Tuffrey-is-now-live.jpg
630
1500
[email protected]
https://jotuffrey.com/wp-content/uploads/jo-tuffrey-site-logo.png
[email protected]
2022-01-06 11:40:59
2022-01-06 11:40:59
Jo's Tone with Tuffrey 2022 programming is benefiting 100's of people right now!