Recipe of the month – Salmon with basil & lentils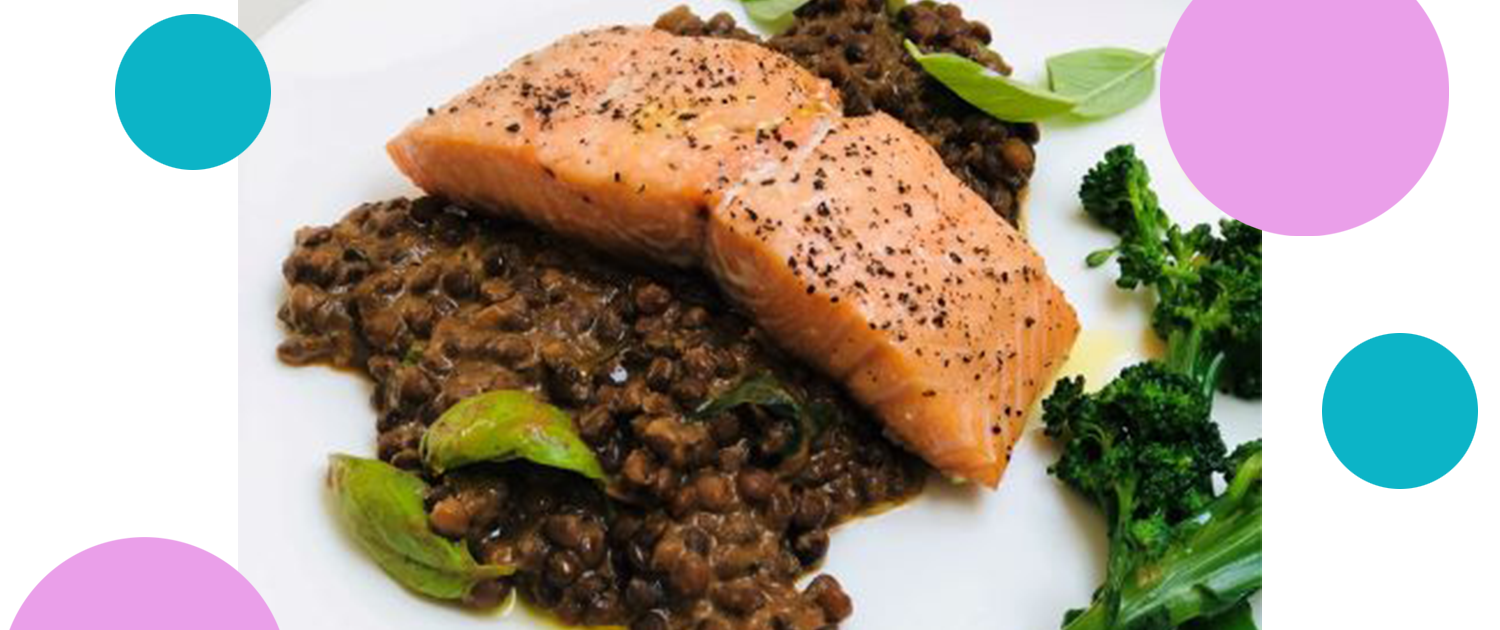 Katie Bishop is back with another recipe to make your mouth water. This month, she's developed one specifically for my Menopause Metamorphosis programme as part of the self-care Sunday feature. I'm so grateful to her for doing this – I really hope you enjoy it!
________________
This incredibly easy recipe uses only a few products, but tastes great. You can vary the grains depending on what you have in the cupboard, or what you like to eat, but the pack of lentils I use in this recipe has lots of great flavour which really adds to the dish, so I would strongly recommend it.
"I'm not a nutritionist, but I do know that the most important thing to remember when eating during menopause, is to ensure you have a balanced plate of food."
That means it needs to include wholegrain carbs for slow release energy, a good source of protein (salmon is good because it's high in vitamin D), healthy unsaturated fats (so that's things like olive oil, nuts, seeds etc), and preferably some calcium too.
Osteoporosis can be an issue during menopause, so it's important to look after your bones. Calcium and vitamin D are both critical for this.
This recipe ticks all of those nutrition boxes, but also tastes delicious and feels comforting, warming and wholesome to eat.
___________
Overview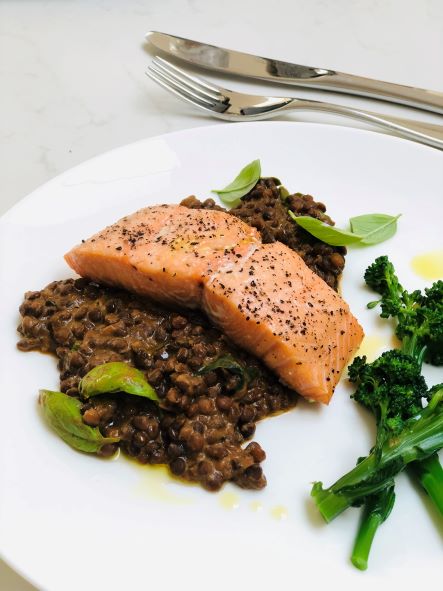 Preparation time: 5 minutes
Time to cook: 10-12 minutes
Serves: 2 people
Ingredients
2 x 250g lightly smoked salmon fillets (or unsmoked, if you prefer)
Extra virgin olive oil, to drizzle
200g Tenderstem broccoli (or other favourite green veg)
About 10-15g basil
250g pack Merchant Gourmet Tomatoey French Puy & Green Lentils
2 tbsp half fat crème fraiche
Let's get cooking …
Preheat the oven to 220C, gas mark 7. Line a baking sheet with foil. Put the salmon on top, skin-side down. Drizzle with olive oil and season well. Bake for 10-12 minutes or until just cooked through.
Meanwhile, bring a medium pan of water to the boil. Cook the broccoli for 4 minutes, then drain and keep warm.
Return the pan to a low heat. Trim then finely chop the basil stalks. Place them into the pan with the lentils and 2-3 tbsp water. Cook over a low heat for 2-3 minutes, until piping hot.
When the salmon is cooked, stir the crème fraiche and whole basil leaves through the lentils. Spoon onto warm plates.
Serve the salmon, leaving the skin behind on the foil (unless you like to eat it), on top of the lentils, with the broccoli, seasoned and drizzled with olive oil, on the side.
______________
Katie will be back next month with something else delicious to try.
In the meantime, you can find out more about her at https://katiebishop.co.uk or follow her on Instagram at @ktbishopcooks
______________
https://jotuffrey.com/wp-content/uploads/Salmon-with-lentils-and-basil.png
630
1500
[email protected]
https://jotuffrey.com/wp-content/uploads/JT-LOGO-BLUE.png
[email protected]
2021-10-28 08:00:14
2022-01-17 09:50:09
Recipe of the month – Salmon with basil & lentils