Recipe of the month – Sausage & tenderstem broccoli white pizza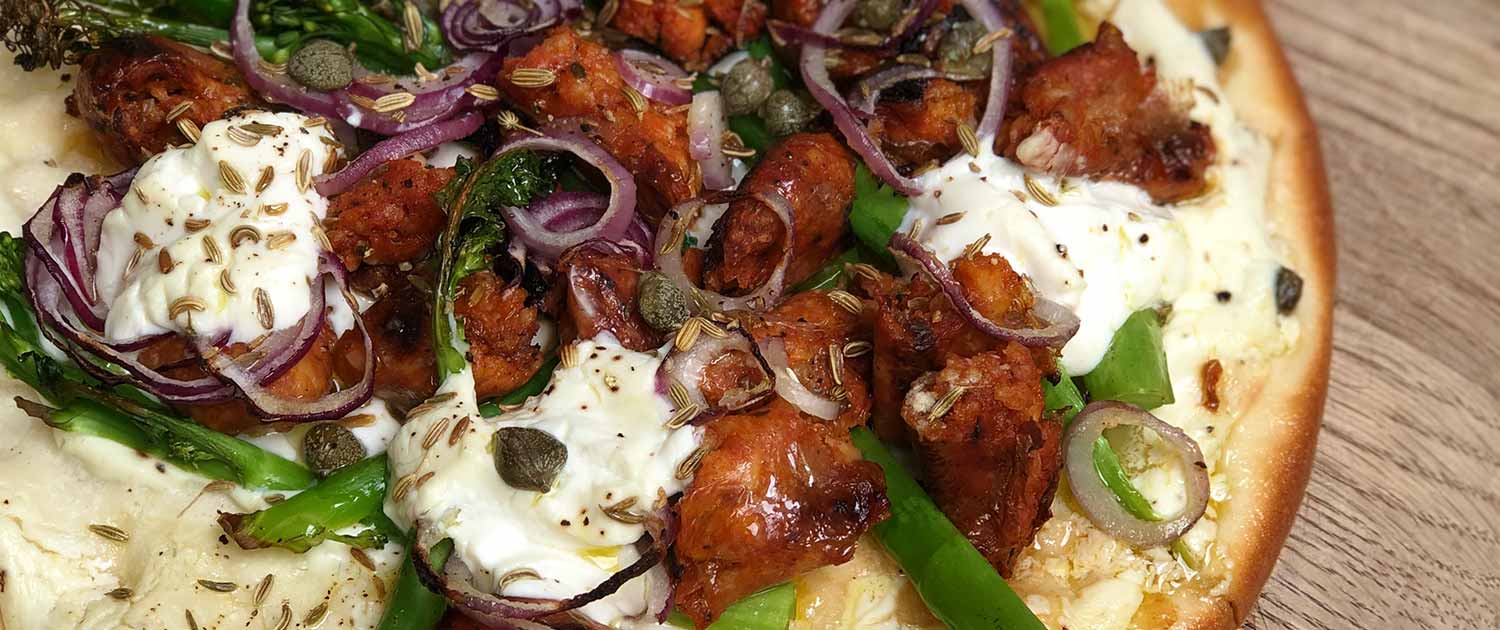 Katie Bishop is back with another recipe to make your mouth water.
I'm so grateful to her for doing this – I really hope you enjoy it!
________________
This really easy 'pizza bianca' recipe feels indulgent but can be made both economically and healthily. 
The cream cheese (the white/bianca bit) makes a delicious change to tomato sauce on the base – use full-fat if reducing calories isn't your priority, but I don't think you'll feel like you're missing out when you taste this using the reduced fat version. 
You can use any cooked sausage you have for the top – I like using chorizo, nduja, or even a bog-standard banger that I might have leftover. 
Tenderstem broccoli is delicious on top, but just use whatever you have available – finely sliced standard broccoli; cauliflower; courgette or pepper strips; or whole spring onions; all work well too. 
Use a ready-made pizza base for ease (all major supermarkets sell them fresh, frozen and in free-from versions – so there's something for everyone.  You could even make this recipe vegan with the appropriate base and swaps for the cheese and sausage), or if you have more time, why not make your own?
Enjoy!
___________
Overview
Preparation time: 15 minutes
Makes: 1 pizza
Ingredients
1 ready-made pizza base
¼ unwaxed lemon (save the rest to dress some salad leaves to serve alongside)
125g reduced fat cream cheese
60-75g Tenderstem broccoli
About 100g cooked sausage
½ small red onion, thinly sliced
1 tsp capers in brine, drained
½ tsp fennel seeds
Olive oil, for drizzling
Salad leaves, to serve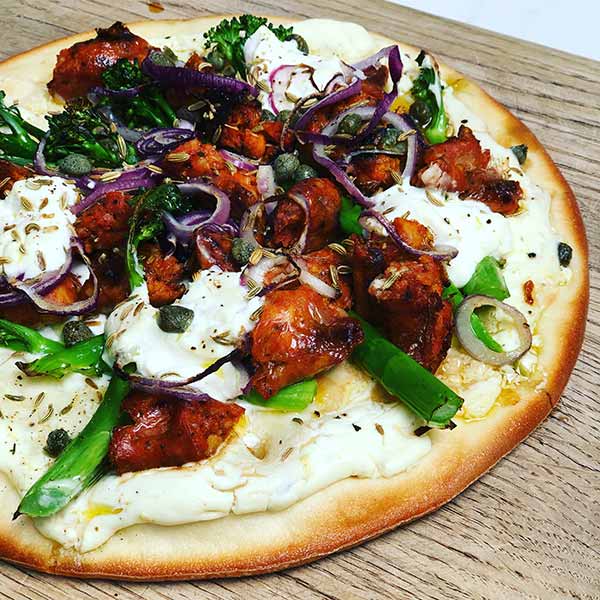 Let's get cooking …
Preheat the oven to 220C, gas mark 7. Put the pizza base on a large baking tray and bake for 3 minutes.

Meanwhile, stir the lemon zest into about two-thirds of the soft cheese. Season. Spread over the pizza base, leaving a 2cm border around the edge.

Scatter over the broccoli, halving any thick stems. Tear the cooked sausage into pieces and scatter over too. Dot with the remaining cream cheese, then scatter over the red onion, capers, and fennel seeds. Season and drizzle with a little olive oil.

Bake for 8-10 minutes, until the base is golden, and everything is piping hot.  Serve immediately with salad leaves seasoned and dressed with a little lemon juice and olive oil.
______________
Katie will be back next month with something else delicious to try.
In the meantime, you can find out more about her at https://katiebishop.co.uk or follow her on Instagram at @ktbishopcooks
______________
https://jotuffrey.com/wp-content/uploads/Sausage-and-tenderstem-pizza.jpg
630
1500
[email protected]
https://jotuffrey.com/wp-content/uploads/jo-tuffrey-site-logo.png
[email protected]
2022-03-21 10:30:39
2022-03-22 08:54:54
Recipe of the month – Sausage & tenderstem broccoli white pizza