Recipe of the month – Banana, Apple & Honey Flapjack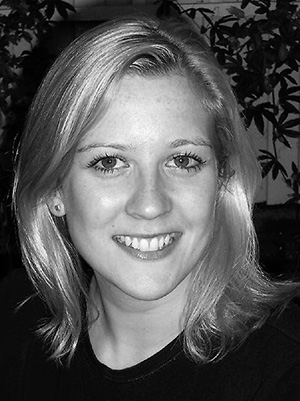 We're so excited to announce our brand new resident food contributor – Katie Bishop.
Katie won the Young Cook of Britain competition at the tender age of 14!  She travelled the world working as a chef and cemented her dream of becoming a professional food writer.
"It is not uncommon for me to be thinking about what I'm going to eat for supper while I'm still eating my lunch."
She has now been a freelance food writer, editor, stylist and consultant for 20 years.  She works with magazines and publishers, writing books and editorial features, as well as making food look beautiful for photos. She also works in advertising and film, presents cookery demonstrations and appears on TV and radio.
We're incredibly fortunate to have her contribute to our lifestyle magazine here at jotuffrey.com
Today – she introduces us to Banana, apple & honey flapjacks …
________________
Overview
Preparation time: 10 minutes
Time to cook: 60 minutes
This recipe makes: 16 flapjacks
If you're trying to sneak some extra fruit in to your diet (or that of your children) without feeling too hard done by, then this recipe is for you. It's an extremely easy and quick bake that will satisfy sweet cravings, without any added sugar – just honey. They're flour-free too!
The banana and apple elements increase your fruit intake, whilst helping to bring the mixture together. The benefit being that you don't need so much butter or sugar.
Feel free to mix it up a little – use what you can find in the cupboard! Dried apricots, cherries, cranberries, raisins or mixed dried fruit all work well. Poppy seeds are always a good addition to bakes and some chia would taste good too.
Katie says that you can use over-ripe bananas and apples – there's nothing worse than food waste – this will help keep it down.
It's good to experiment – try adding some finely grated orange or lemon zest to the mixture, before baking.
You can of course turn this into something slightly less healthy – by drizzling melted chocolate (white, milk or dark) over the top – we'll let you decide on that.
So – let's take a look at how to get these done!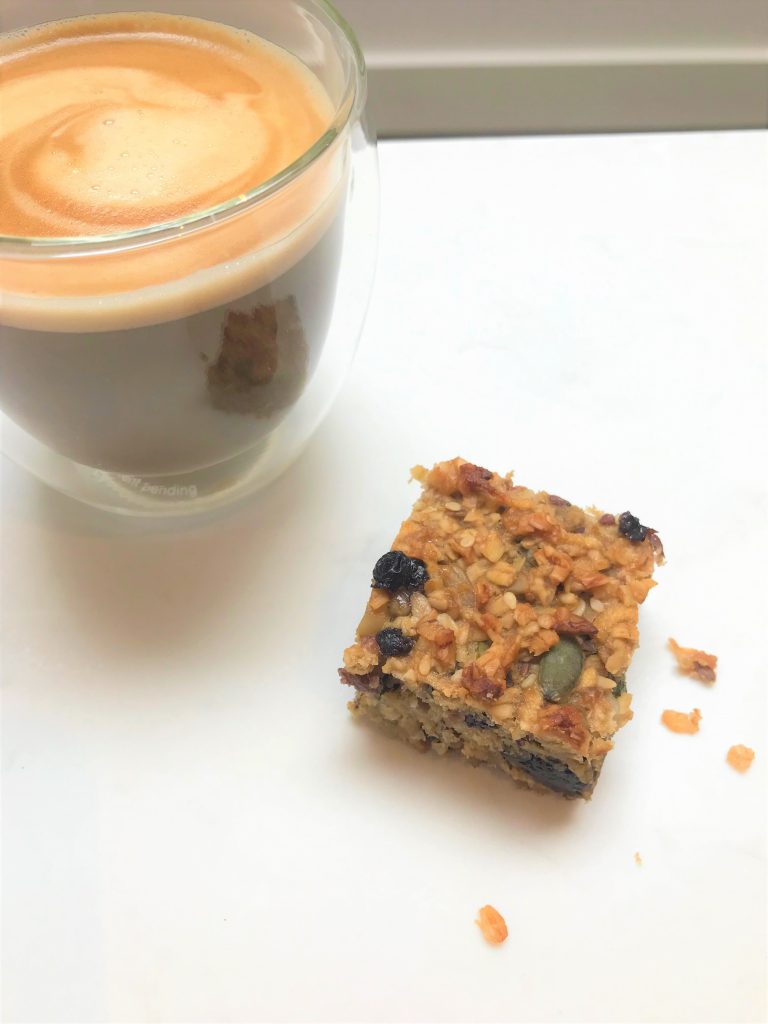 Ingredients
50g butter, plus extra for greasing the tin
2 tbsp smooth peanut butter
3 tbsp honey
2 bananas
2 small eating apples
250g porridge oats
100g prunes
75g currants or raisins
75g mixed seeds (eg. pumpkin, sunflower, sesame & linseeds)
Let's get cooking …
Preheat the oven to 160˚C, gas mark 3 and grease a 20cm square tin.
Melt the butter, peanut butter and honey into a small saucepan over a low heat. Stir the ingredients to combine.
Whilst simmering, mash the banana and coarsely grate the unpeeled apple into a bowl (don't worry about removing the core in advance, just grate around it).
Mix the fruit into the melted butter mixture. Add 100ml hot water and stir.
Add the oats to a large bowl. Add the prunes – snipping them up using scissors, to make pieces about the size of a plump raisin.
Next, add the currants and seeds.
Finally, mix in the banana mixture until everything is well coated. Simple so far?!
It's time to get baking next. Tip into the prepared tin and spread out to level the surface. Bake for 55 minutes or until golden brown.
Leave to cool in the tin for at least 2 hours, before turning out and cutting into squares. Enjoy with tea or coffee!
More about Katie
Katie will be back next month with something else delicious to try.
In the meantime, you can find out more about her at http://katiebishop.co.uk or follow her on Instagram at @ktbishopcooks
https://jotuffrey.com/wp-content/uploads/Flapjacks.jpg
630
1500
[email protected]
https://jotuffrey.com/wp-content/uploads/JT-LOGO-BLUE.png
[email protected]
2021-04-10 12:19:59
2021-04-29 08:28:19
Recipe of the month – Banana, Apple & Honey Flapjack